Novelist and essayist Lauretta Ngcobo passed away in Johannesburg yesterday.
Born in 1931 in Ixopo, KwaZulu-Natal, Ngcobo was at the forefront of the women's anti-pass marches in the 1950s. She went into exile in 1963, with her husband, the Pan Africanist Congress founder Abednego Bhekabantu Ngcobo, and settled in England. She had her first novel published in 1981, Cross of Gold. Ngcobo returned to South Africa in 1994.
She received a Lifetime Achievement Literary Award from the South African Literary Awards in 2006, the Order of Ikhamanga in 2008, and was lauded as an eThekwini Living Legend in 2012.
In a video produced for the eThekwini Living Legend award, Ngcobo says she was surrounded by books from a young age, which encouraged her love of reading: "By the age of eight, when I went to school, I was very interested in the written word."
Ngcobo emphasises the importance of storytelling in learning. "There's a fountain of knowledge that comes through reading and storytelling," she says.
"My literary background, if I was to speak widely, was from the traditional stories that our parents taught us."
Ngcobo also talks about her experience as an aspiring writer at Fort Hare University, where she says she was "almost discouraged in the art of writing".
"Our culture can destroy children without realising it," she says. "The professors and lecturers were very interested in men. At the time, there were only 38 girls at Fort Hare. There were 400 men. And when I say 38, I mean from the whole country, and Zimbabwe, and Kenya, and all the African neighbouring states.
"At that point, the professors seemed a lot more interested in male students. No matter how much effort you put in, I realised that they were teaching men, and then there was a mistake or some unfortunate situation where there were women as well. Some of them even had an aggressive attitude when they asked you a question. This prepared me for a situation where I was discouraged from writing. I didn't think anybody would be interested in what I had to say."
Ngcobo says that situation changed in London, where she began to "enjoy the company of other writers".
Watch the video: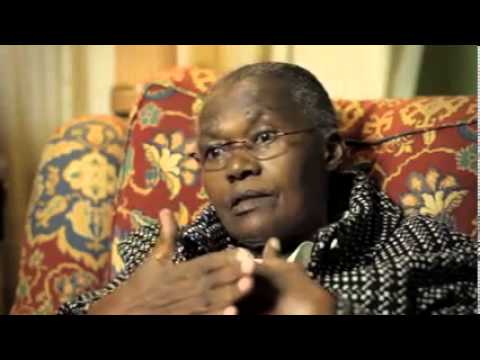 Related stories:
Book details