The Rhodes Must Fall movement at the University of Oxford, in association with the Oxford University Africa Society and the Oxford Pan-Afrikan Forum (OXPAF), recently invited Eusebius McKaiser to address students and faculty members about the issue of racism in South Africa. McKaiser spoke about the important themes and issues of race which he interrogates in his latest book, Run Racist Run: Journeys Into The Heart Of Racism.
Sizwe Mpofu-Walsh, son of EFF chairperson Dali Mpofu and recent Oxford graduate, introduced McKaiser and described Run Racist Run as "an odyssey into the heart of racism in South Africa". Mpofu-Walsh, who was instrumental in bringing the #RhodesMustFall movement to Oxford, said in his introduction:
"Tonight is about shifting the debate in Oxford. Some people seem surprised that race exists at Oxford and there seem to be very few opportunities to engage critically with that topic." He said that there is "no one better possibly in the world at this moment in time to engage with us about how the complexities of race have affected places like South Africa" than McKaiser.
McKaiser spoke about the topic "Black Rage, White Tears" and encouraged the audience to engage in the conversation. In his speech, the author addressed the 2015 student protests in South Africa, black anger, identity politics and the myth of white excellence.
"The events that have happened in South Africa this year demand the attention of writers," McKaiser said in his introduction. "I couldn't pretend that the stench of racism is not part of my experience in South Africa as a black South African and as a writer."
Rhodes Must Fall – from Cape Town to Oxford

"It was very clear to me that the student protests were not narrowly about curricular change, changing the demographics of the staff that are teaching, but are fundamentally tied up with exclusion in South Africa in general and also internationally, which is why you've seen similar kinds of protests and conversations happening – variations on the theme in other parts of the world like in North America.
"It's not fundamentally about university space. I think universities in South Africa are microcosms of the structural injustices that people are experiencing in society in general, and although the particular fights in our universities might focus on a particular issue – such as where are the black female professors at UCT? Why are we teaching dead, white philosophers at Wits University's Philosophy Department but you won't see black people on the curriculum? – those may be the particular points on the agenda but actually the larger context of those fights is that they are intimately connected to the structural injustices of our society in general.
"I think in that context to see the protesters as just a 'bunch of naughty students' who are doing something on the side and will grow up when they graduate, is to really miss this very important moment in South Africa's history."
McKaiser said that 2015 has been the most exciting and most important year we've had politically since 1994. "I think it's going to be a game changer and I think in 10, 15 year's time we'll still feel the same about what's happened this year."
McKaiser said that the student protests have made many question what they were doing in their time at university: "We applied for fancy things like the Rhodes scholarship … and we applied for those things based on being the coolest kids on our campuses who cared deeply about social justice." He said that we were not half as conscious as students today: "We were co-conspirators in perpetuating some of the structural violence that happens in places including at Oxford where year in and year out some of us, who thought we are very different creatures, were happy to toast to the founder for his great adventures into Africa."
Does Anger Have any Moral Value in the Decolonisation Movement?

In his speech, McKaiser aimed to debunk the myth that anger is a "marker of irrationality" or "not being in control of a conversation".
"One reason why anger is very important is quite simply because certain moral emotions when you feel them are a social indicator that something is sick in your society. Something is broken. If you don't ever experience affective states, emotions, then I think, as with someone who doesn't feel pain, you'll never become aware of when your body is ill or when your society is actually ill.
"I think intellectually, without feeling, it is possible to know that there is something unjust in society like South Africa because the facts can tell you that. So, feeling emotion and exhibiting emotion are not necessary criteria for knowing there's injustice in South Africa but they are darn useful ways of knowing that something is wrong with your society."
McKaiser continued: "The experience of anger is a necessary part of knowing that you are experiencing something that is morally and socially warped about the country in which you live. And so the expectation that there will never be emotions running high when you talk about racism, when you talk about what racism does to you, that is someone who's in deep denial about how morally sick a society is and how it affects people who actually have to be the ones experiencing the brunt of that racism in their society."
McKaiser said that factoring anger out of the equation makes you a bystander of injustice. "There's a motivating power that getting angry has in bringing about change."
Identity Politics
In the next part of his speech, McKaiser pushed back against people, white men in particular, who've launched spurious criticism of "identity politics". McKaiser reflected on the assumption that some people can't be heard because of their position in society, or that their views are regarded as "stupid and offensive" because of social facts about themselves.
One underlying assumption is that people who get angry cannot debate rationally on decolonisation against people who are calm – "which of course is rubbish". McKaiser spoke about the articles which have similar themes based on caricatures of what identity politics is about.
"The first claim that they make is that an inherent danger of identity politics is that you essentialise race categories. So, being black becomes some incredibly mythical, metaphysical property, and you make it seem as if people have essences – there is some essential notion of what it means to be black, what it means to be white. So that's one gripe.
"A second gripe they have is that the right to speech is unfairly being limited, just in virtue of someone's positionality. So literally a few of these guys have said, they feel as white South African men, they're not allowed to disagree with someone who reports on their black pain because allegedly, as a result of identity politics, anyone who reports on their subject of experiences cannot be challenged."
"The question is, are those fair criticisms of the way in which identities are being asserted by young people, by black people, by women and all the intersectional politics that we seek?"
Before opening the floor for discussion, McKaiser said: "If you are callous about black pain, as some of the columnists are in South Africa, some of the senior white opposition MPs are, if you're callous about black pain, if you caricature the nature of identity politics and how it plays out, if you don't want to have an honest conversation about the nature of unearned privilege and how it operates in society – it is very, very important that we understand when people are trying to sidestep that debate by pretending that you are asking them to shut up. No one is asking you if you are a heterosexual white male to shut up; that would be to deny your right to speech."
What followed was a lively discussion on the points McKaiser made in his opening remarks.
Watch the video: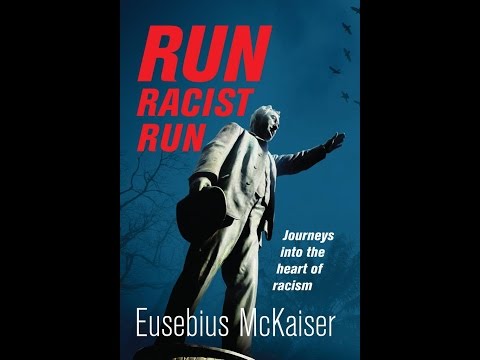 Related links:
Book details
A Bantu in My Bathroom: Debating Race, Sexuality and Other Uncomfortable South African Topics by Eusebius McKaiser
EAN: 9781920434373
Find this book with BOOK Finder!