This Fiction Friday, read an excerpt from the much-anticipated debut novel from Abubakar Adam Ibrahim, Season of Crimson Blossoms.
Abubakar's novel was launched in Abuja, Nigeria, on 25 November, where it sold out.
Ibrahim's first book was a short story collection, The Whispering Trees, published in 2012. The titular story was longlisted for the inaugural Etisalat Prize for Literature and shortlisted for the Caine Prize for African Writing. You can read "The Whispering Trees" here.
Abubakar was also included on the Hay Festival's Africa39 list; the most promising 39 authors under the age of 40 from Sub-Saharan Africa and the diaspora.
Season of Crimson Blossoms is his first novel, published by Cassava Republic Press and Parrésia Publishers. It was released in the same month as his friend and fellow Nigerian Elnathan John's debut novel, Born on a Tuesday.
Abubakar was a judge of the 2015 Short Story Day African competition, and he chatted to SSDA organiser Tiah Beautement about writing, reading, and African literature:
Tiah: What would you like to see change in the African literary landscape?

Abubakar: I would like to see more intra-continent engagement and better utilization of the literary space. I would like to see Africans reading more African writers. I would like to see South African and Kenyan books in Nigerian bookshops, I would like to see Nigerian books in Tanzania and Uganda. I want to read Ghanaian books in Abuja. I want to see better engagement between Anglophone and Francophone Africa, with more translations across the two divides. It is a shame that Togo is just next door and I have absolutely no idea what the literary landscape looks like over there. I want this to change.
Read an excerpt from Season of Crimson Blossoms:
Binta had noted Mallam Haruna's unease right from when he offered to stand guard over her and wave away the midges tormenting her with the tail of his kaftan. He had backed down immediately when he saw the shocked expression on her face. Then he had spent five minutes trying to tell her how important it was for a man to protect the woman he loved from 'all enemies'.

That was how he got talking about scorpions and how he had been stung three times in the past. He punctuated his gory tale of feverish nights fighting off the venom with little nervous chortles.

Then he had attempted to mount his cap on her head, right on top of her hijab. It was so unheralded that she had wanted to flee.

'Is there something wrong with you this evening?'

'Oh no, not at all. Just wondering what you would look like with my cap on you.'

She gaped at him, as if she had somehow contrived to see through his skull and discovered that his cranium was packed full of semi-deflated balloons.

He seemed oblivious to her stare. 'You know I am the best cap washerman in this corner of the world, wallahi.'

He went into a fractured narrative about how he had learned how to wash caps in Maiduguri when he had been an almajiri and how he had married his first wife as ladan noma.

Binta's mind drifted. She wondered what she could do to get rid of Hureira since her husband had refused to come for her. She contemplated several possibilities, none of them practical, and concluded that other than escorting Hureira back to her own house, she had no choice but to accept that her daughter might end up permanently stationed in Fa'iza's room, while her matrimonial home in Jos collected the harmattan dust.

When her mind wandered back, Mallam Haruna was talking about his third or fourth son making a living driving a white man around Port Harcourt, and how he had been in an accident and now limped like a three-legged dog.

She felt his hand on her shoulder, a light slap at first and then the hand slid down just a bit.

'Mosquito,' he grinned.

The cat meowed, almost half-heartedly. It used its front paw to wipe its head, took several steps and then bounded off the fence, into Mama Efe's side of the wall.

Mallam Haruna launched into yet another disjointed narrative on how best to deal with the pestilence of mosquitoes using dried orange rinds sprinkled on embers. Then he reached out and slapped another mosquito on her back and yet again, his hand tarried.

She regarded him with a frown. 'Mallam Haruna, yaya dai?'

'Nothing, nothing,' he laughed, uneasily. 'Perhaps we could meet somewhere else.'

'What for?'

'Well,' he lowered his voice, 'well, we could just go somewhere else, you know, just get to know each other better.'

'What do you mean?'

He was unsettled by the bluntness of her tone. 'Well, you know, I was just saying we could go somewhere private, you know—'

'What for?'

He turned on his radio and fiddled with the knob, sweeping past stations.

She said nothing, only watched him search for a discernible voice in the sea of static. He switched the radio off just as suddenly as he had turned it on.

'So, what do you say?'

'To what?'

'You know, what I said, about going somewhere.'

'What do you have to say that you can't say here?'

'Well, we could go to Mr Biggs, or Mama Cass or La Crème, one of these fancy places, you know.'

'I am not hungry.'

'Well, I don't mean now, of course, silly. Perhaps tomorrow.'

'I have a kitchen and a store full of food. If I'm hungry, I know how to cook.'

He laughed, 'Binta ke nan. Why are you being difficult?' It came out as a statement.

'Mallam, I am not going anywhere with you. I am not a young girl to be gallivanting about.'

He lowered his head and sighed. He switched on the radio again and began fiddling with the knob absently.

'Switch it off, dan Allah.'

He put the radio by his side and then picked it up again. Then he removed his cap and scratched his scalp. Finally, he said he was leaving and they stood up.

She shook her hijab. 'Sai da safe.'

'Binta,' he called as she made to leave. 'Perhaps, you know, we could go to a hotel, you and I—'
Watch a video interview with the author: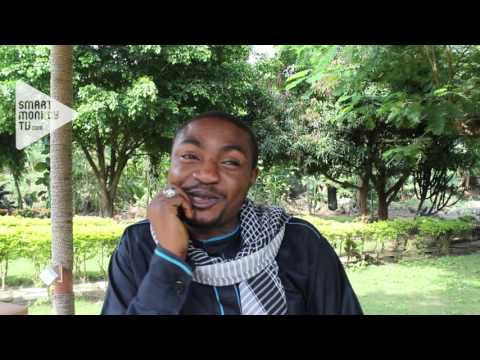 Author Abubakar Adam Ibrahim talks about: his first novel Season of Crimson Blossoms about an older widow wanting to explore her sexual side in Northern Nigeria; how the North of Nigeria is seen in fiction; and the author as a writer of "human stories".
* * * * *
About the book
"A rich and vibrant novel with shades of brutality, romance and the pressures of a close knit community." – Leila Aboulela, author of The Kindness of Enemies

"A haunting story of forbidden love trying to survive in the midst of social and political violence; of obligation versus personal freedom; of desire and death. Vivid characters, good dialogues and a strong sense of location are the perfect ingredients." – Veronique Tadjo, author of As the Crow Flies

"A powerful and compelling debut. The taboo subject of an older woman's sexuality, portrayed with courage, skill and delicacy, is explored in the context of the criminal underworld and the corrupt politics that exploits it. Thus, elegantly, and with compassion for the powerless, Ibrahim gives us unique insight into contemporary Nigerian society. This is a novel to be savoured." – Zoë Wicomb, author of October
In conservative Northern Nigeria, the salacious affair between 55-year-old widow Binta Zubairu and a 26-year-old weed dealer and political thug with the very unusual name Hassan 'Reza' is bound to cause more than a ripple.
Brought together by some unusual circumstances, both see a need only each other could satisfy. Binta, who before the encounter, is reconciling herself with God, has the need to unshackle herself from the sexual repression that characterised her marriage, and a deprivation that typified her widowhood. But beyond that, there is her desire to redeem herself for the loss of her first son, whose tragic death haunts her still.
And so when the thug, Reza, whose real name not many people remember, arrives with a heart emptied by the absence of a mother who abandoned him when he was months old, and rekindles Binta's passions, they strike it off.
As word of his unwholesome liaison with the widow Binta spreads and draws condemnation and social ostracisation for Binta, things get to a head when Binta's rich son confronts the thug with disastrous consequence.
Set in the predominantly Muslim north of Nigeria, this story of relationships, and the lack of it, unfurls gently, revealing layers of human emotions and desires.
About the author
Abubakar Adam Ibrahim was born in Jos, Nigeria and grew up wanting to tell stories by any means possible, including self-drawn comics. Eventually he started writing and published his debut short story collection, The Whispering Trees (Parresia Publishers, Lagos, 2012) to critical acclaim. It was longlisted for the inaugural Etisalat Prize for Literature and shortlisted for the Caine Prize for African Writing.
Abubakar has won the BBC African Performance Playwriting Competition in 2007, the Amatu Braide Prize for Prose in 2008 and is a 2013 Gabriel Garcia Marquez Fellow and a 2015 Civitella Ranieri Fellow. He is included in the Hay Festival's Africa 39 List of the 39 most promising African Writers under the age of 40. Season of Crimson Blossoms is his first novel.
Related news:

Book details