I love writing. I write because I need to, because it sustains and energises me. Writing allows me to do everything else that I do. – Kopano Matlwa Mabaso
Kopano Matlwa Mabaso was recently featured as the 18th icon in the shortfilm series 21 Icons.
At just 30 years old, Matlwa Mabaso is a medical doctor and the author of the critically acclaimed novels Coconut and Spilt Milk. She is currently pursuing a PhD in public health at the University of Oxford, and is working on her third novel.
"My favourite quote is by Anton Checkhov who says, 'Medicine is my wife and writing my mistress', and that makes complete sense to me," she says. "I love them both."
Matlwa Mabaso says as a child she wanted to be an astronaut, a writer, a doctor, a magazine editor and coffee shop owner, but eventually realised she would have to choose one. She chose medicine, but says she only succeeded in that field because of writing.
"As a doctor you have the unique privilege of listening to people's stories and I care deeply about people's stories," she says. "I think being a young person and trying to make sense of that, writing helped me cope, so I thank writing for finishing medicine.
"My discomfort provoked me to write. I was growing up in post-apartheid South Africa trying to figure out who I am, and what was considered to be good was everything that was considered white. What does it mean to be black, African and female in the new South Africa, and who decides?"
From 21 Icons:
Pretoria-born Matlwa Mabaso was just nine years old when South Africa birthed its democracy in 1994. In her debut novel, Coconut, published in 2006, she writes about her experience growing up as a young black girl in the new South Africa and the complexities associated with finding a sense of belonging.

Labelled a "Coconut", a South African stereotype regarded a slur, she tells Van Wyk how the novel unpacks what it means to be young, black and beautiful in the new South Africa, where fitting in can be at the cost of one's own identity.

"I write about things that I find difficult. Coconut began when I was in high school, trying to figure out my own identity and often what was considered to be good was everything white and the challenge of finding a place and meaning as a black young South African. Spilt Milk came from grappling with the South Africa that I live in – I write about what bugs me," she says.
Watch the video: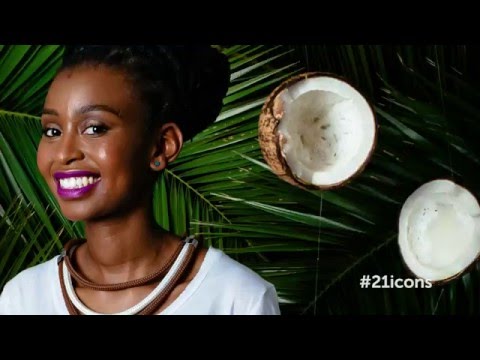 Image: 21 Icons
Book details