Alert! The inaugural National Institute for the Humanities and Social Sciences (NIHSS) Book, Creative and Digital Awards ceremony took place last night in Parktown, Johannesburg.
Winners included Jacob Dlamini for Askari (Jacana Media); Imraan Coovadia for Tales of the Metric System (Umuzi); the 2014 Short Sharp Stories Award anthology Adults Only, edited by Joanne Hichens; and recent UKZN Press publication Class in Soweto.
Awards were also handed out in the categories Digital Humanities and Creative Collections. Each award is valued at R60,000.
Submissions for the awards were open to academics from the humanities and social sciences, as well as creative curators and artists based at South African universities, in any of South Africa's official languages.
The NIHSS is funded by the Department of Higher Education and Training.
From the NIHSS:
The awards will honour and celebrate outstanding, innovative and socially responsive scholarship, creative and digital contributions that advance in the humanities and social sciences fields. The awards are consequently a platforms to laud outstanding contributions to the humanities and social sciences through scholarly and creative work.

Through its core functions of enhancing and coordinating scholarship, research and ethical practice in humanities and social sciences, the NIHSS seeks to redress existing deficits and also coordinates programmes, projects, collaboration and activities in the humanities and social sciences disciplines through existing public universities.
Ashraf Garda was the master of ceremonies, and the keynote address was given by Minister of Higher Education and Training Blade Nzimande.
Nzimande expressed his delight at the overwhelming response and high standard of entries that the awards received from academics and other practitioners in the field.
"A renewed focus on the importance of the humanities and social sciences is absolutely critical in a world that increasingly values the Sciences, Engineering, Technology and Mathematics (STEM) as the only measure of development and progress," Nzimande said.
"The role of the humanities and social sciences must not only assist us in analysing and interpreting the world we live in, but it must enable us to change the material conditions and lived experiences of those most marginalised and alienated in society."
The judges summations were given by Joyce Myeza (Digital Humanities), Thembinkosi Goniwe (Creative Collections), Shireen Hassim (Books: Non-fiction), and Pumla Dineo Gqola (Books: Fiction)
Winners: Books
Winner Best Non-fiction Monograph:
Jacob Dlamini for Askari
(Shortlisted: Isabel Hofmeyr for Gandhi's Printing Press: Experiments in Slow Reading, Stephanus Muller for Nagmusiek, Corrine Sandwith for A World of Letters: Reading Communities and Cultural Debates in Early Apartheid South Africa)
Winner Best Non-fiction Edited Volume:
Class in Soweto, edited by Peter Alexander, Claire Ceruti, Keke Motseke, Mosa Phadi and Kim Wale
(Shortlisted: Peter Delius, Laura Phillips and Fiona Rankin-Smith for A Long Way Home: Migrant Worker Worlds 1800-2014, Salim Vally and Enver Motala for Education, Economy and Society)
Winner Best Single Authored Fiction (novel, short stories, poetry, drama):
Imraan Coovadia for Tales of the Metric System
(Shortlisted: Antjie Krog for Mede-wete, Bishop Makobe for Tsa Ngweding wa Letopanta)
Winner Edited Fiction Volume:
Adults Only, edited by Joanne Hichens
(Shortlisted: Amitabh Mitra and Naomi Nkealah for Splinters of a Mirage Dawn: An Anthology of Migrant Poetry from South Africa)
Winners: Digital Humanities
Best Digital Humanities Tool or Suite of Tools:
Nirma Madhoo-Chipps for Future Body: Technological Embodiment in Digital Fashion Media
Best Digital Humanities Project for Community Engagement:
Shirley Walters and Astrid von Kotze for Popular Education
Creative Collections
Best Public Performance:
Jay Pather for Live Art Festival
Best Musical Composition/Arrangement:
Sazi Dlamini, Neo Muyanga, Sumangala Damodaran, Ari Sitas (produced by Jürgen Bräuninger) for Insurrections
* * * * *
Watch a video from the event: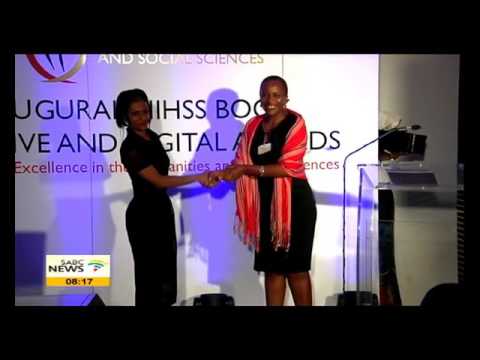 * * * * *
View some tweets from the event:
I'm very excited about the @INIHSS Awards this evening. Let me get ready

— Pumla Dineo Gqola (@feminist_rogue) March 30, 2016
The NIHSS is proud to host the Inaugural #NIHSSAwards which honour innovative, excellent & socially responsible scholarship.

— NIHSS (@INIHSS) March 30, 2016
The #NIHSSAwards welcome submissions of Creative & Digital Collections as well as Non – Fiction & Fiction books across SA universities

— NIHSS (@INIHSS) March 30, 2016
The #NIHSSAwards celebrate post – apartheid & post – colonial scholarship, creative production & digital humanities outputs

— NIHSS (@INIHSS) March 30, 2016
The #NIHSSAwards provide an opportunity to cast a deserving limelight on pioneering scholars & artists in the Humanities & Social Scieces

— NIHSS (@INIHSS) March 30, 2016
The #NIHSSawards recognise the public value of scholarly & artistic work in the Humanities & Social Sciences which often goes unnoticed.

— NIHSS (@INIHSS) March 30, 2016
#NIHSSAwards An audience of academics, artists & activists gathered to celebrate excellence pic.twitter.com/4ktOQMaeoQ

— NIHSS (@INIHSS) March 30, 2016
#NIHSSAwards MC @AshrafGarda highlights the importance of recognition of the humanities & social sciences to foster SA's progress

— NIHSS (@INIHSS) March 30, 2016
The # NIHSSAwards reflect the diversity of South African society, the arts and academia

— NIHSS (@INIHSS) March 30, 2016
Just over an hour to me MCing the #NIHSSAwards – celebrating intellectual excellence pic.twitter.com/kR2Z8wcb8d

— Ashraf Garda (@AshrafGarda) March 30, 2016
Ready to MC the inaugural #NIHSSAwards pic.twitter.com/aWMZerNLWH

— Ashraf Garda (@AshrafGarda) March 30, 2016
#nihssawards #sabcnews Minister of Higher education Blade Nzimande addresses awards ceremony pic.twitter.com/nGerdWL4IV

— Nozintombi (@nozintombimiya) March 30, 2016
Minister Nzimande sounding sympathetic towards FMF, workers struggles, the "missing middle" & black tax. Says he's constrained by his title

— lm (@NovaHerself) March 30, 2016
We want to win the world cup of humanities and social sciences – Min Nzimande #NIHSSAwards @INIHSS @ChampionSAfrica

— Ashraf Garda (@AshrafGarda) March 30, 2016
You can't have Univ of Zululand that looks exactly the same as when I went there in the 70's – Min Nzimande #NIHSSAwards

— Ashraf Garda (@AshrafGarda) March 30, 2016
Min Blade Nzimande confirms he will start a foundation in his name to encourage reading & use of libraries – #NIHSS

— Ashraf Garda (@AshrafGarda) March 30, 2016
The Institute is taking off at an important time for universities. Need to unpack what we mean by 'decoloniality' -Min Nzimande #NIHSSAwards

— rené alicia (@renealicia) March 30, 2016
To date we (NIHSS) have awarded 300 scholarships. Over 70% awarded to women – Min Nzimande #NIHSSAwards

— rené alicia (@renealicia) March 30, 2016
#nihssawards #sabcnews Swedish born african poet Lebohang Masango gives an amazing ode to Africa poem pic.twitter.com/kcVOUNL6qT

— Nozintombi (@nozintombimiya) March 30, 2016
#NIHSSAwards Winner Creative Collections – Musical Composition/Arrangement #SaziDlamini et al pic.twitter.com/0UfudD4Pu5

— rené alicia (@renealicia) March 30, 2016
Nirma Madhoo, Shirley Walters and Astrid von Kotze win the awards for Digital Humanities #NIHSSAwards

— lm (@NovaHerself) March 30, 2016
Jacob Dlamini's Askari wins Best Manuscript at #NIHSSAwards

— lm (@NovaHerself) March 30, 2016
#NIHSSAwards Winner: Fiction, Tales of the Metric System by Imraan Coovadia pic.twitter.com/obRyGRTmxG

— rené alicia (@renealicia) March 30, 2016
#NIHSSAwards Fiction Winner – Best Edited Volume 'Adults Only". Edited by Joanne Hichens pic.twitter.com/fth9bWLJ4Q

— rené alicia (@renealicia) March 30, 2016
#NIHSSAwards Winners pic.twitter.com/HZU6b37YKj

— rené alicia (@renealicia) March 30, 2016
Book details