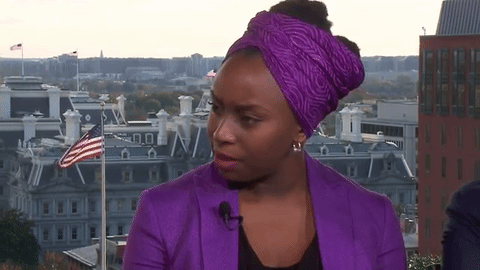 Nigerian novelist Chimamanda Ngozi Adichie hit the international headlines recently when she made some strong remarks about Donald Trump, racism and privilege on BBC Newsnight.
The interview was hosted by Emily Maitlis, with Adichie and the editor in chief of the American Spectator, R Emmett Tyrrell.
Tyrrell tries a number of bullying tactics, but Adichie was having none of it. The highlight of the interview is Adichie's remark:
I'm sorry but if you are a white man you don't get to define what racism is. You really don't. You don't get to sit there and say [Trump] hasn't been racist when objectively, he has. And it's not about your opinion. Racism is an objective reality and Donald Trump has inhabited that reality.
We've created some gifs of her brilliance for you to share, so scroll down for those.
The full discussion has now been made available, and you can watch it at the end of this post.
Adichie begins by saying that she believes the demands being made by many of Trump's supporters are valid, but criticised the "dark", "ugly" nature of his populism: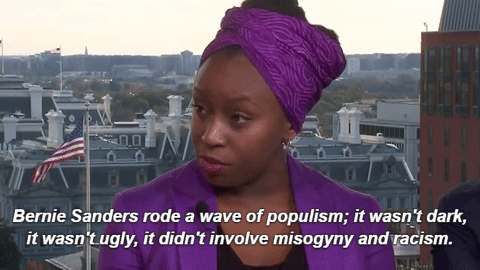 For me what I think this has shown is that there are different kinds of populism. I think that the underlying idea to this election has been that a certain group in the US feel that they have been economically disadvantaged and ignored, and I think that's valid and true.

I also think that's really a result of a larger capitalist system that both parties have embraced. But I think what is very troubling to me is that we can find that idea valid without accepting other ideas that have propelled Trump to his success. And so, populism doesn't have to be as dark and ugly as it has been with Donald Trump.

Bernie Sanders rode a wave of populism; it wasn't dark, it wasn't ugly, it didn't involve misogyny and racism.
When asked for his views on Trump, Tyrrell chooses emphasise how he believes Hillary Clinton was found wanting by the American public and "lied repeatedly".
"Does it feel to you America has changed?" Maitlis asks Adichie, who responds:
I feel quite numb. I have felt quiet numb since the elections. And I think I felt numb because I was genuinely surprised. And I wasn't surprised because I live in some sort of liberal bubble. I was surprised because I felt that people would reject the package in which Donald Trump's message came.

The populism, the idea that there are people who have been neglected and we need to look out for them, I think it's valid.

But what is shocking to me, and what has made me feel so numb, and sad, and angry, is that it seems that people who have accepted this idea also accepted the other things. We can talk about lying, and talk about a person who has consistently been shown to lie about big things and small things …
Adichie adds that to suggest Clinton was not honest is not a strong argument, and points out that she was voted for by more Americans, numerically.
Tyrrell is then spotted "raising his eyes" by Maitlis, and she asks him to respond.
"I don't really respond to an election the way this lady does," he says. "I don't respond to it emotionally, I look at the evidence. And the evidence suggests that there was a reason for this."
Maitlis asks him if he is at all worried by the protectionist, isolationist rhetoric of the Trump campaign.
"No," he replies, saying he doesn't believe it is protectionist or isolationist, and adding: "I believe Donald Trump is going to be in the great line of American internationalists."
At this point Adichie can't disguise a grin: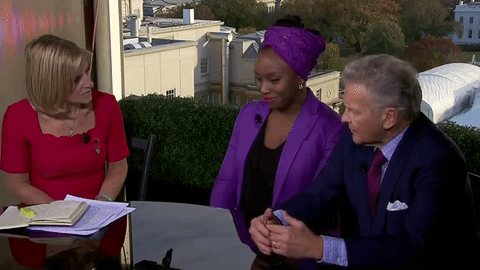 … and is invited to respond:
No, I'm sorry, I'm sorry, I'm sorry, this is absolutely absurd. We can't create an alternate universe where the real Donald Trump doesn't exist. He campaigned as a man who is protectionist, who is isolationist, who actually doesn't abide with many of the traditional conservative values. So to suggest he is going to be some kind of internationalist doesn't make sense.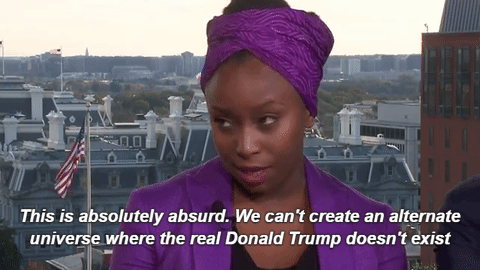 And can I say that I find it patronising to be told that I respond to things emotionally, and that somehow doing that means that I don't respond to things in a way that looks at evidence. We are talking about Donald Trump, who has been shown to lie over and over. There is evidence for that. So to say that to point that out is to be emotional I think is really absurd.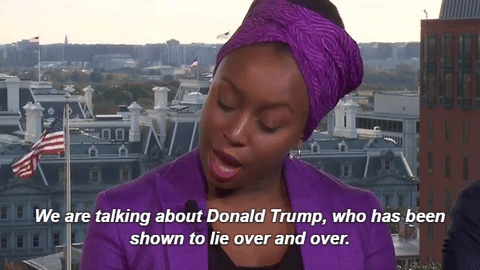 Maitlis then points out that the first black president will be followed by a president who is endorsed by the KKK.
Tyrrell dismisses the significance of this, and says – pointing his index finger at the presenter – "it's inappropriate to talk about the KKK in the same sentence of Donald Trump or any republican. They're utterly marginal."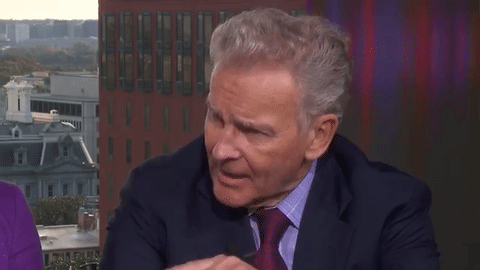 Adichie is again invited to respond, dub as she does Tyrrell interrupts her, saying sneeringly "go ahead, let me hear what you have to say about that".
With good grace, in very diplomatic passive voice, Adichie says: "You know, I find it really interesting; there seems to be a refusal to accept reality. [Maitlis] has asked a question about the KKK and it hasn't been engaged with … the point is the KKK exists, the KKK endorsed Donald Trump, the KKK stands for white supremacy, and that has to be acknowledged, that has to be pushed back on."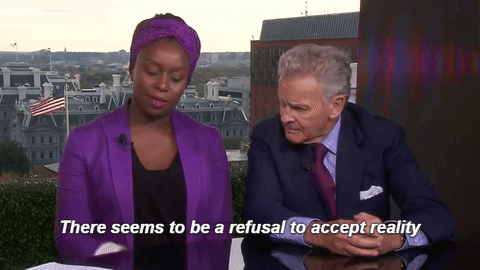 An inkling of concern seems to cross Tyrrell's face at this point, but he tries to keep his spirits up – and possibly deflect attention – by abruptly yelling "Balderdash! What balderdash!"
Maitlis asks Tyrrell: "Was there nothing that Trump said on the campaign trail about race that hit you? Did you worry about any of it?"
"No, in fact you people keep magnifying it," he says. "[Trump] talked about a lot of other things. Those things get through too. I mean this is ridiculous!"
Maitlis then points out that a fifth of Latinos and Hispanics voted for Trump, and asks Adichie whether that indicates that race was not a major issue in the election.
Adichie says:
I find that argument to be very troubling. The idea somehow that if people of colour vote for somebody who's racist it means he's not racist. Every system of oppression has people who are in the group of the oppressed who somehow contribute to that oppression. So it's not even a valid argument to make.

I think we should look at Trump for who Trump has told us and shown us that he is. So let's look at what he's said on the campaign trail. The only way we can judge the kind of president he will be is based on the campaign that he ran.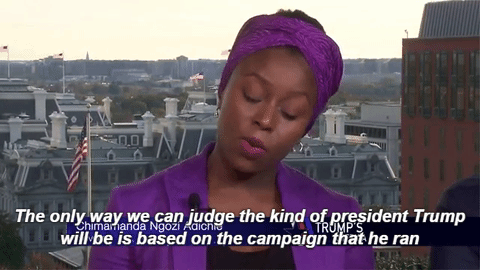 Maitlis says, "But maybe he didn't believe anything he said and maybe that's how you win a primary."
Adichie responds:
But then, that's the problem because on the one hand we're told that Trump's appeal is that he says what he thinks and the says it like it is, and then on the other hand we're told that somehow he doesn't really mean it. So which is it? There's something very troubling about that.
Maitlis mentions the many republicans, including Speaker of the US House of Representatives Paul Ryan, who have accepted that Trump has been racist in his language, "'textbook racism' was the phrase used," she says.
Tyrrell says: "That's not true, he hasn't been racist. I mean, let me tell you …"
At this point Adichie interjects, saying: "I'm sorry, but if you are a white man you don't get to define what racism is. You really don't. You don't get to sit there and say he hasn't been racist when, objectively, he has. And it's not about your opinion. Racism is an objective reality and Donald Trump has inhabited that reality."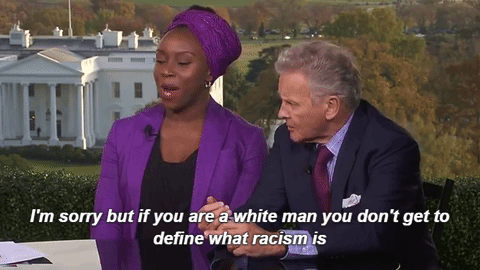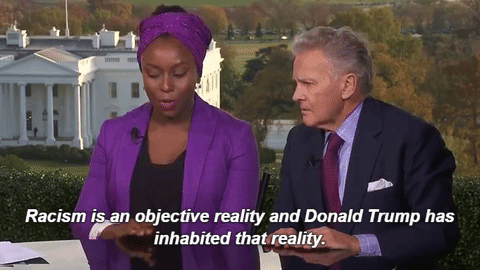 Racism is an objective reality and Donald Trump has inhabited that reality.
Adichie mentions how Trump referred to United States District Judge Judge Gonzalo P Curiel as a "Mexican" during his campaign, in an attempt to discredit him.
Tyrrell's bizarre retort is: "I'm sorry but I looked at Judge Curiel and he didn't look any other colour than my colour."
He adds that he doesn't believe Trump will govern in the same way that he campaigned, as proved by his "dignified, charming" acceptance speech.
Adichie says:
To says to us that we have to disregard everything that Donald Trump said and did during his long campaign and judge him just on the one day after he had won the election doesn't make sense.
Watch the full video:

Related stories:

Book details