South Africans are united in celebrating the legacy of Steve Biko today, 37 years to the day after his death in police custody.
The Black Consciousness activist and Struggle hero died at the age of 30 on September 12, 1977, in political detention, after being horrifically tortured.
Then apartheid minister of justice Jimmy Kruger said at the time: "I am not saddened by Biko's death and I am not mad. His death leaves me cold."
In a rare television interview shared on YouTube, Biko outlines his hopes for South Africa: "We see a completely non-racial society. We don't believe for instance in the so-called guarantees for minority rights, because guaranteeing minority rights implies a division of portions of the community on a race basis.
"We believe that in our country there shall be no minority, there shall be no majority, there shall just be people. And those people will have the same status before the law and they will have the same political rights before the law. so in a sense it will be a complete non-racial egalitarian society."
Watch the video: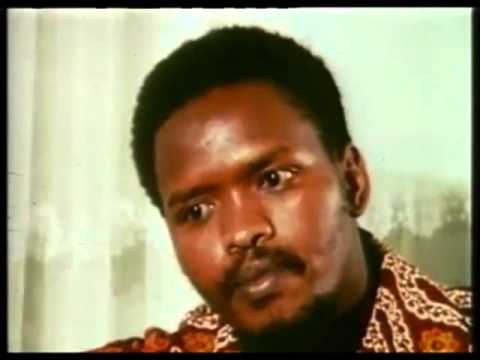 From the Steve Biko Foundation:
In remembering Biko and drawing lessons from his legacy, a number of issues arise. First, because of their violent nature, the circumstances surrounding his death tend to be the predominant context within which he is remembered. Yet, it was in life that Biko made the most profound contribution to the liberation of South Africa.

Secondly, although Biko is often regarded as the father of Black Consciousness, his political contribution extends well beyond black society and its consciousness. By abandoning politics of comfort, Biko challenged liberal white society to revisit its own consciousness. In this way, he contributed significantly to white consciousness and thus to ploughing the ingredients of mutual respect and non-racialism.

Third, by placing emphasis on the individual as well as the collective, his legacy was far reaching in highlighting the inextricable link between history and biography between the struggles of society and the role of the individual.

Lastly, Biko died at the tender age of thirty. Almost as many years later, his legacy continues to stand the test of intellectual inquiry, as South Africa continues to define itself as a nation. Particularly because of his young age, the substantive qualities of Biko's legacy speak to the responsibility facing youth as custodians of our democracy, perhaps more so than with any other of the founders of our democracy.
Steve Biko is also trending on Twitter this morning, with people tweeting quotes from the man as well as rare interviews and photographs.
We honour Stephen Bantu (Steve) Biko, the great anti-apartheid activist, who died on 12/09/1977 in a Pretoria prison pic.twitter.com/6snXZVt0Mx

— Salim Amin (@salima24media) September 12, 2014
"The most potent weapon in the hands of the oppressor is the mind of the oppressed" Steve Biko #Legend #LegacyLivesOn pic.twitter.com/2N2SELvZTl

— Tebogo Ditshego (@TebogoDitshego) September 12, 2014
#SteveBiko Today in 1977 Steve Bantu Biko died. For his bio, go to @sahistoryonline: http://t.co/t4Hz2k6R4I pic.twitter.com/BSW6PfC0l9

— Erin Bates (@erinmarisabates) September 12, 2014
Today in 1977 Steve Biko died after being beaten into a coma by the apartheid security police. Never forget pic.twitter.com/R8R4o8Zwa9

— Nicole Johnston (@NicoleJohnston) September 12, 2014
"To understand me correctly you have to say that there were no fears expressed" Steve #Biko #BikoLives pic.twitter.com/xcJ7lUqZ5X

— SteveBikoFoundation (@BikoFoundation) September 12, 2014
"It is better to die for an idea that will live than to live for an idea that will die" Steve Biko pic.twitter.com/tLRYawr6wm

— MthimkuluMashiya (@Mashiy_Amahle) September 12, 2014
12/09/1977#SteveBiko pic.twitter.com/1s1zmUK6UA

— Miga Mogotsi (@MichaelMogotsi) September 12, 2014
"The most potent weapon of the oppressor is the mind of the oppressed." #SteveBiko

— Farah Osman (@FarahOsmanB) September 12, 2014
"Apartheid – both petty and grand – is obviously evil" – Steve #Biko

— SteveBikoFoundation (@BikoFoundation) September 11, 2014
"You are either alive & proud or you are dead,& when you are dead, you can't care anyway" Steve Biko #BikoLec2014 pic.twitter.com/50iQ2BjyIw

— SteveBikoFoundation (@BikoFoundation) September 11, 2014
Jay Naidoo on Steve Biko´s vision what we can learn from it http://t.co/hxh6I22StQ

— SA History Online (@sahistoryonline) September 9, 2014
"You cannot keep a man down without staying down with him." -Steve Biko #quote

— Petteri Tarkkonen (@ptarkkonen) September 9, 2014
Click on the image to view an interactive Google Cultural Institute timeline of Biko's life between 1965-1976:
Book details
Image courtesy of South African History Online
» read article