The shortlist for this year's Diagram Prize for the Oddest Book Title of the Year has been announced.
The seven books on the shortlist are:

Advanced Pavement Research: Selected, Peer Reviewed Papers from the 3rd International Conference on Concrete Pavements Design, Construction, and Rehabilitation, December 2-3, 2013, Shanghai, China edited by Bo Tian (Trans Tech)

Scroll down to read excerpts Books LIVE has collected from the shortlisted titles.
The winner will be chosen by a public vote, which takes place on We Love This Book.
Voting closes at midnight on Friday, 20 March, and the winner will be announced on Friday, 27 March. There is no prize, but the person who nominated the book will receive a "passable bottle of claret".
Diagram Prize coordinator and The Bookseller's features and insight editor Tom Tivnan said: "Britain's, arguably the world's, premier literary prize once again delivers the goods, with seven magnificent titles that are unparalleled in their oddity. With two of the last three winners sporting the word 'poo' in their title, 2014 was something of a return to the Diagram's more hygienic roots."
The Bookseller's diarist Horace Bent said: "This is one of strongest years I have seen in more than three decades of administering the prize, which highlights the crème de la crème of unintentionally nonsensical, absurd and downright head-scratching titles. Ultimately, it is a stunning collection of books. Let other awards cheer the contents within, the Diagram will always continually judge the book by its cover (title)."
Are Trout South African?: Stories of Fish, People and Places by Duncan Brown came second last year, sharing the spot with The Origin of Feces by David Waltner-Toews.
* * * * *
Excerpts from the Diagram Prize for the Oddest Book Title of the Year shortlist:
Nature's Nether Regions: What the Sex Lives of Bugs, Birds, and Beasts Tell Us About Evolution, Biodiversity, and Ourselves by Menno Schilthuizen
Even more infamous is the traumatic insemination that is practiced by cimicids, blood-feeding bugs to which also Cimex lectularius, the common bedbug, belongs. Unforgettable to anyone who has ever been unlucky enough to spend several nights in bedbug-infested sleeping quarters, they will be truly memorable once you have learned about their sex lives. Living in densely packed colonies in crevices near the sleeping place of their "host," sexual encounters are frequent, quick, and literally stabs in the dark. Bedbug researcher Mike Siva-Jothy of Sheffield University says: "When a female has not fed, she can avoid copulating males. But when's fed and bloated, she's a sitting duck. There's no courtship—it's brutal in every sense of the word."
* * * * *
The Madwoman in the Volvo: My Year of Raging Hormones by Sandra Tsing Loh
Excerpt from 'The Madwoman in the Volvo: My Year of Raging Hormones' by Sandra Tsing Lo.
* * * * *
Where Do Camels Belong?: Why Invasive Species Aren't All Bad by Ken Thompson
Where do camels belong? Ask the question and you may instinctively think of the Middle East, picturing a one-humped dromedary, some sand and perhaps a pyramid or two in the background. Or if you know your camels and imagined a two-humped Bactrian, you might plump for India and central Asia. But things aren't quite so simple if we're talking about the entire camel family. Camelids (the camel family) evolved in North America about 40 million years ago. Titanotylopus, the largest camel that has ever lived, stood 3.5 m high at the shoulder and ranged through Texas, Kansas, Nebraska and Arizona for around 10 million years. Other species evolved very long necks and probably browsed on trees and tall shrubs, rather as giraffes do today. Much, much later camels spread to South America, and to Asia via the Bering Strait, which has been dry land at various times during the recent Pleistocene glaciations. Camels continued to inhabit North America until very recently, the last ones going extinct only about 8,000 years ago. Their modern Asian descendants are the dromedary of north Africa and south-west Asia and the Bactrian camel of central Asia. Their South American descendants are the closely related llamas, alpacas, guanacos and vicuñas (llamas are only camels without humps; all you need to do is look one in the eye for this to be pretty obvious). Now you know all that, let me ask you again: where do camels belong?
* * * * *
The Ugly Wife Is a Treasure at Home: True Stories of Love and Marriage in Communist China by Melissa Margaret Schneider
PART ONE
The 1950s Generation
When Love Didn't Exist

I was twenty-four when I married my first wife, but I knew nothing about females. I didn't understand why I had to marry at all, or what purpose marriage served. — Tom Liu, b. 1958

The 1950s generation, the first citizens born in Communist China, came of age in a world devoid of romantic love. They learned that life was a high-stakes mission and that their role was critical to its success. They grew up building socialism and fighting class enemies, not thinking about boyfriends or prom dresses. They were taught
to care about the causes and teachings of Mao Zedong and to work selflessly for their country. In the harsh light of this grand collective vision, any private desires for romantic love, intimacy, or happiness appeared petty, selfish, even criminal.

Under Mao, public life was purposely desexualized. Men and women dressed alike in drab blue or gray uniforms, cutting their hair in identical bobs trimmed around the ears. Books and movies were heavily censored, scrubbed clean of any reference to love or sex. The married people that the 1950s generation could observe, including
their own parents, did not touch or say "I love you." Outside of the bedroom, life was generally sexless. Inside the bedroom it was hardly easier, as many couples shared their sleeping quarters with other relatives.

Interestingly, in the early years Mao Zedong thought of sexual satisfaction within marriage as an effective social pacifier.
* * * * *
Strangers Have the Best Candy by Margaret Meps Schulte
Strangers Have the Best What?

The sun set over blue tropical waters as I swung gently in a hammock at Bahia Honda, a state park in the Florida Keys. It was a Thursday evening in May, a few days after my 29th birthday. The hammock was new; it had been a birthday gift.

"Barry?" I said.

"Hmm?" My husband was swinging in his own hammock, a few feet away.

"All our friends have to go to work tomorrow. Isn't that weird?"

He was unmoved by my epiphany. "I guess so."

Listening to the distant thunder of waves crashing on the beach, I envisioned our friend Andy, at home in his apartment. Back in northern Virginia, he'd be packing his lunch, folding his laundry, cooking dinner, maybe reading a book or watching TV. In the morning, he would take the bus to a government office and sit at his desk, talk on the phone, review documents. He'd take a lunch break, do more of the same work in the afternoon, and go home at the end of the day. The next day would bring the same familiar routine.

A month earlier, my life had been similar. Then we quit our jobs, gave up our apartment, and stored our belongings. We packed our Honda Civic with camping equipment and started driving south, staying at inexpensive state parks and free national forest campgrounds. We thought we had enough savings to travel like this through the summer. In the fall, we'd settle down again, find jobs, and resume a life with furniture and responsibilities. Maybe in Milwaukee.

For the first couple of weeks, it felt like a normal vacation. But on that evening in May, I recognized that I had left my old life behind, and I didn't know if I would ever return. The absolute freedom was exhilarating and terrifying at the same time.

I didn't know that this pursuit of freedom would define my life for decades, not months.
* * * * *
Divorcing a Real Witch: For Pagans and the People That Used to Love Them by Diana Rajchel
Most of us model marriage on what we witnessed as children. Even when we try to see that experience as what not to do, we can find ourselves referring to that first when proceeding in our own relationship. In some ways, it's experiencing two marriages at once: the one with your partner and the one in your own mind.

My own parents were married for 41 years; it ended with my father's death by leukemia. My father always gave me an impression of a happy marriage. My mother always gave me an impression of a miserable one. My opinion of marriage, as a result, is that it needs to be deregulated.

I came to maturity in the 1990s; and interacted daily with children of divorced parents. Every year at least one classmate went through a parental breakup. Only a few of these children of broken homes seemed broken themselves – all of those talked about bad family dynamics long before divorce. For most of my peers, both parents worked. The media nicknamed them "latchkey children" and made them sound like the pending Apocalypse. Supposedly these children were more prone to drug use, dropping out of school and spreading general mayhem. In the long run, it turned out, that children in bad environments had these problems – and not all latchkey children lived in bad circumstances with neglectful parents.
* * * * *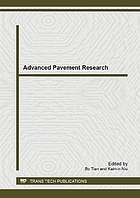 Advanced pavement research: selected, peer reviewed papers from the 3rd International Conference on Concrete Pavements Design, Construction, and Rehabilitation (ICCPDCR 2013), December 2-3, 2013, Shanghai, China by Bo Tian
No excerpt available. Unfortunately.


* * * * *
Book details
Nature's Nether Regions: What the Sex Lives of Bugs, Birds, and Beasts Tell Us about Evolution, Biodiversity, and Ourselves by Menno Schilthuizen
EAN: 9780670785919
Find this book with BOOK Finder!
The Ugly Wife Is a Treasure at Home: True Stories of Love and Marriage in Communist China by Melissa Margaret Schneider
EAN: 9781612346946
Find this book with BOOK Finder!
» read article