Economic Freedom Fighters (EFF) leader Julius Malema has rejected President Jacob Zuma's settlement offer over taxpayer cash spent on his Nkandla homestead.
"He thinks he can play with us …" Malema told a news briefing in Johannesburg.
"We're not going to accept any settlement that doesn't reaffirm the powers of Public Protector' that remedial actions are binding."
Malema said since Zuma had flouted the office of the Public Protector Thuli Madonsela and her powers' the institution was no longer respected as before.
"We can't have a situation where Zuma's drum majorettes in parliament insult the Public Protector.
"We can't accept that the Public Protector can be told that she is not God and her remedial actions aren't binding."
Watch the video: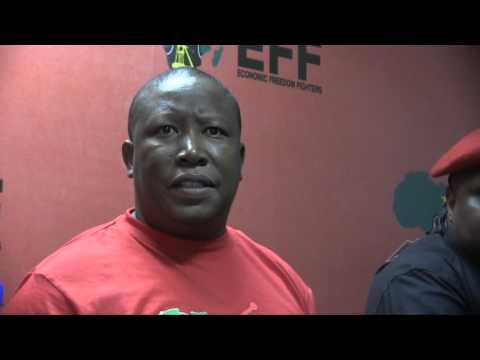 Malema lambasted his former political chief' saying Zuma was in breach of his office as he did not protect the public purse.
"We're here because the corrupt President of SA has made an admission that he is corrupt and that he will pay back the money.
"They made a proposed settlement and they expect us to respond.
"In his typical way of trying to control everything and influence judges' he took a copy to court. Zuma being Zuma writes to us and copies judges so he can influence them. He wants them to see him as a reasonable man. The judges responded saying that they're not interested' because that is the matter between the parties and won't get involved."
South Africa is not going to be another failed African state under the watch of the EFF' he proclaimed.
"We're not scared of anyone. We're not scared of Zuma and Parliament …
"This man is collapsing the country. We're not scared of being beaten up. We're prepared to die for protection of the Constitution."
Book details
» read article