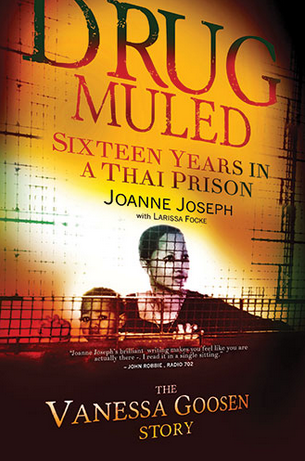 Noor-Jehan Yoro Badat from The Star interviewed Vanessa Goosen before the launch of her biography, Drug Muled, at Hyde Park Corner shopping centre. Goosen spoke about the depression that she experienced while imprisoned in Thailand and how she overcame it after a stranger approached her and reminded her to think about her daughter, Felicia, who was born in the prison and sent to live with Goosen's friend in South Africa.
Goosen also discussed how difficult it was returning to South Africa after having been incarcerated for more than 16 years. She had to learn how to use a cellphone and get re-accustomed to wearing shoes and sleeping in a bed.
It's been more than two years since Vanessa Goosen returned from Thailand. For 16 years, six months and 16 days the former Miss SA semi-finalist was incarcerated in Lard Yao women's prison in Bangkok.

Goosen claimed to have been duped into carrying four engineering books, which were found to have compartments in the front and back hardcover and spine containing 1.7kg of heroin.
Babalwa Shota from City Press attended the launch and took some photographs of the event:
Exclusive Books in Hyde Park Corner Shopping Centre was a hive of activity this week when book lovers braved a nippy Joburg evening to attend the launch of a book penned by Joanne Joseph.

Drug Muled: 16 Years in a Thai Prison, about beauty queen turned drug mule Vanessa Goosen, has caused a buzz in publishing circles. And if the turnout at this launch is anything to go by, it will be on the bestseller list soon.
Book details