Alert! The 2015 Guardian First Book Award has been won by Andrew McMillan, for his collection of poems, Physical.
Only two poets have ever made the shortlist for the £10 000 (about R215 000) prize in its 17-year history, and McMillan becomes the first poet to win it.
In the announcement, The Guardian calls Physical an "elegantly poised and intimate collection of poems", and books editor Claire Armitstead said:
"It's a thrilling development for us as poetry so rarely breaks through in generalist prizes," she said. She cited Percy Bysshe Shelley's 1821 Defence of Poetry, in which he argued that "poetry enlarges the circumference of the imagination by replenishing it with thoughts of ever new delight". Shelley's assertion that "poets are the unacknowledged legislators of the world" might seem "a bit optimistic in our prosaic times", Armitstead said, "but Andrew McMillan's breathtaking collection shows that good poetry can and does still enlarge, replenish and delight".

"It is wonderful that a collection so tightly focused on masculinity and gay love could have such a wide appeal, across age and gender," she continued. "It surprised us all with the best sort of ambush, emerging from an extremely strong and vibrant shortlist as the unanimously agreed winner."
McMillan is the son of Ian McMillan, one of the United Kingdom's best known contemporary poets, although The Guardian points out that this is a connection he "kept quiet about", apart from dedicating the book to his parents.
Chigozie Obioma's The Fishermen was also nominated for the prize, one of many award lists the Nigerian author's debut novel has appeared on.
Obioma won the inaugural FT/OppenheimerFunds Emerging Voices Fiction Award for last month and was shortlisted for the 2015 Man Booker Prize and the 2015 Centre For Fiction First Novel Prize, among others. The Man Booker went to Marlon James in the end, while the Centre for Fiction winner will be announced on 8 December this year.
The 2015 Guardian First Book Award shortlist was:
Physical by Andrew McMillan (Jonathan Cape)

The McMillans junior and senior tweeted their delight:
Watch a video of McMillan reading his work: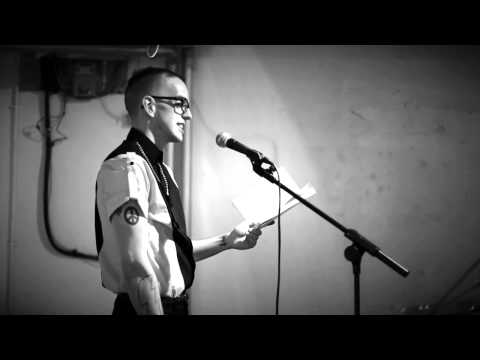 Related links:
* * * * * *
Book details
Author image: andrewmcmillanpoet.co.uk